Mornin' Barbados

Streamed Live on September 16, 2022.
View from 1:26:16 - 1:36:50
Interview with artist Juliana Inniss in The Brighton Storeroom talking about her exhibition,
Unearthing Identity
along with gallery director Estelle Thompson.
---
Mornin' Barbados

Streamed Live on September 14, 2022.
View from 1:30:28 - 1:38:26
Interview with artist Juliana Inniss in her studio talking about her exhibition,
Unearthing Identity.
---
by
LIVING BARBADOS
on SEPTEMBER 6, 2022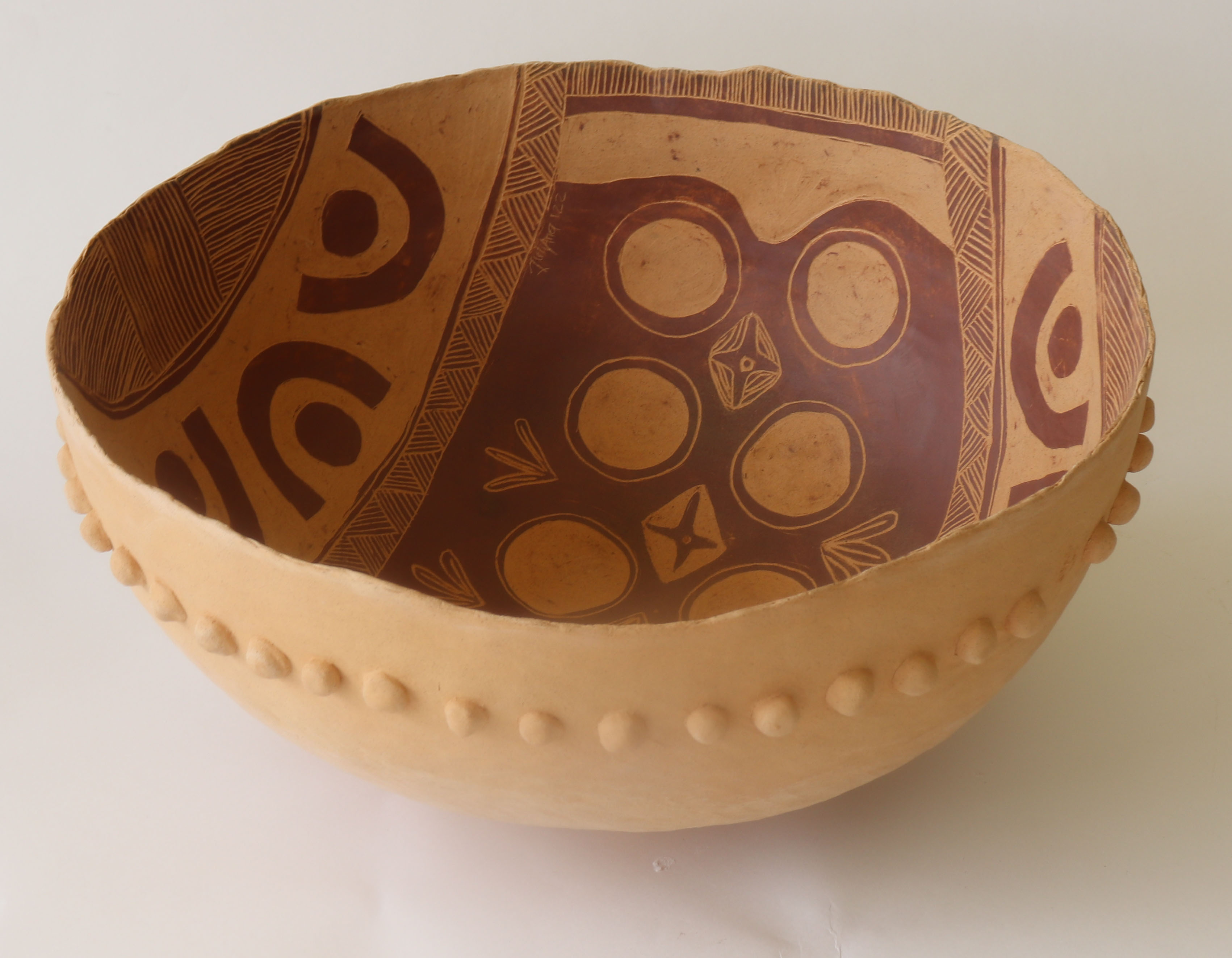 The Brighton Storeroom is delighted to announce an exhibition of recent ceramic works by Barbadian artist Juliana Inniss. The new works are large in scale and are informed and inspired by traditional African pottery, particularly clay vessels made by women.
Unearthing Identity
is Inniss' second solo show, and features a unique body of hand coiled work – made with a variety of clays – created in her Christ Church studio in Barbados. This collection of work focuses on the physical form of a vessel and reimagines it as a container for both the tangible and the intangible: a home for shared heritage, stories and spirits.
view article
---
London, Barbadian printmakers featured in joint exhibitions
Two groups of artists, two countries, two exhibitions and one medium are celebrated simultaneously.
The London Free Press, Joe Belanger, June 13, 2022
Barbadian artist Kraig Yearwood's print, titled Balancing Act - Paradise Totem I,
is part of the exhibition In Two Places on at Satellite Project Space until July 2.
In Two Places is a printmaking exhibition opening Wednesday at the Satellite Project Space on Dundas Street featuring works by artists from the London area and Barbados where the exhibition will open simultaneously in St. George at the Brighton Storeroom gallery.
The exhibition features works by 16 artists from both countries – 10 from the London area and six from Barbados – sponsored by the embassies of each country in a cultural exchange.


view article


---
The final in the Artists-talking-to-Artists series included Dennis De Caires, Versia Harris and Ras Akyem Ramsay.
The University of the West Indies, 5.30 p.m. via Zoom (link below) Wednesday, April 20, 2022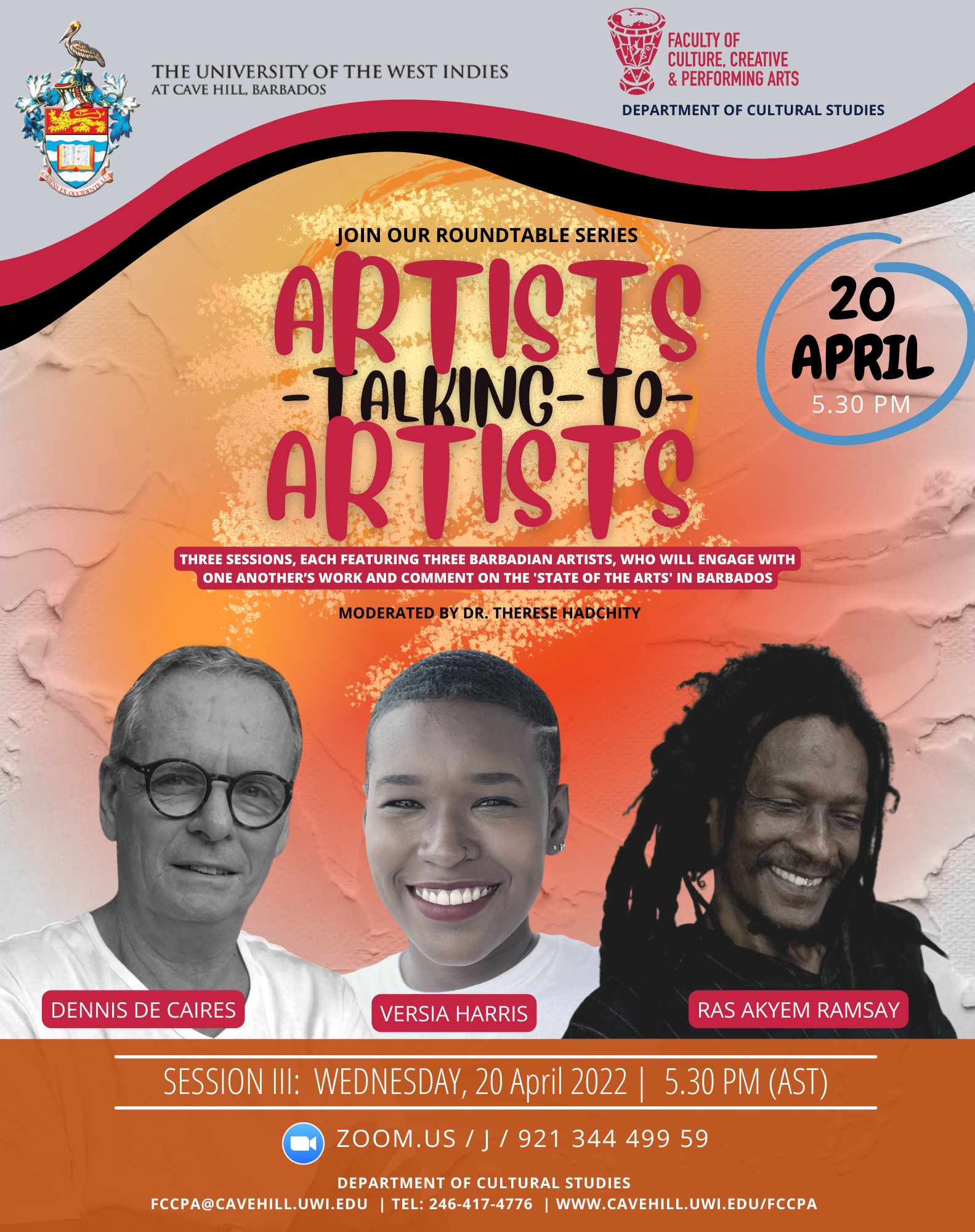 Talk by Versia Harris to students from the Division of Fine Arts at Barbados Community College about her installation As Above, So Below
The Brighton Storeroom, April 2022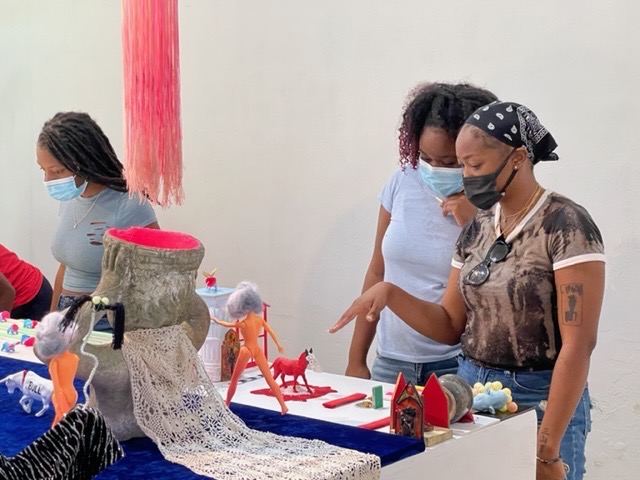 ---
Blank Canvas: Featuring John Cox, Curator of the NE10 Exhibition "Mercy"

The National Art Gallery of The Bahamas (NAGB), March 17th, 2022


On this week's "Blank Canvas", the show in which we discuss visual culture and creative community, your hosts Diana Sands and Dr Douglas Barkey have a poignant discussion with John Cox, the curator of the upcoming NE10 Exhibition, "Mercy" in which he shares the inspiration for the exhibit and how it will be organized. This National Exhibition will open on July 7th, 2022 and is designed to encourage deep reflection and conversation around individual perspectives of what it means to be merciful. Listen in and stay tuned for more updates around this pivotal exhibition.
"Blank Canvas" airs each Wednesday at 6:30 p.m. on Guardian Talk Radio 96.9FM.
view article
---
Challenging traditional standards
The Tribune, Friday, August 6, 2021
John Cox,
Falling Figure
2015 Tessa Whitehead
Us and all of us II
2019
In response to a new two-person exhibition entitled 'Life's Balance' now open at The Brighton Storeroom, in St. George, Barbados, the well-known Bahamian artist
John Cox
writes about his and his fellow exhibiting artist
Tessa
Whitehead's
practices.
view article
---
Alison Captures Gully's magic

Friday, June 25, 2021 WEEKEND NATION
---
Living Barbados, April 15, 2021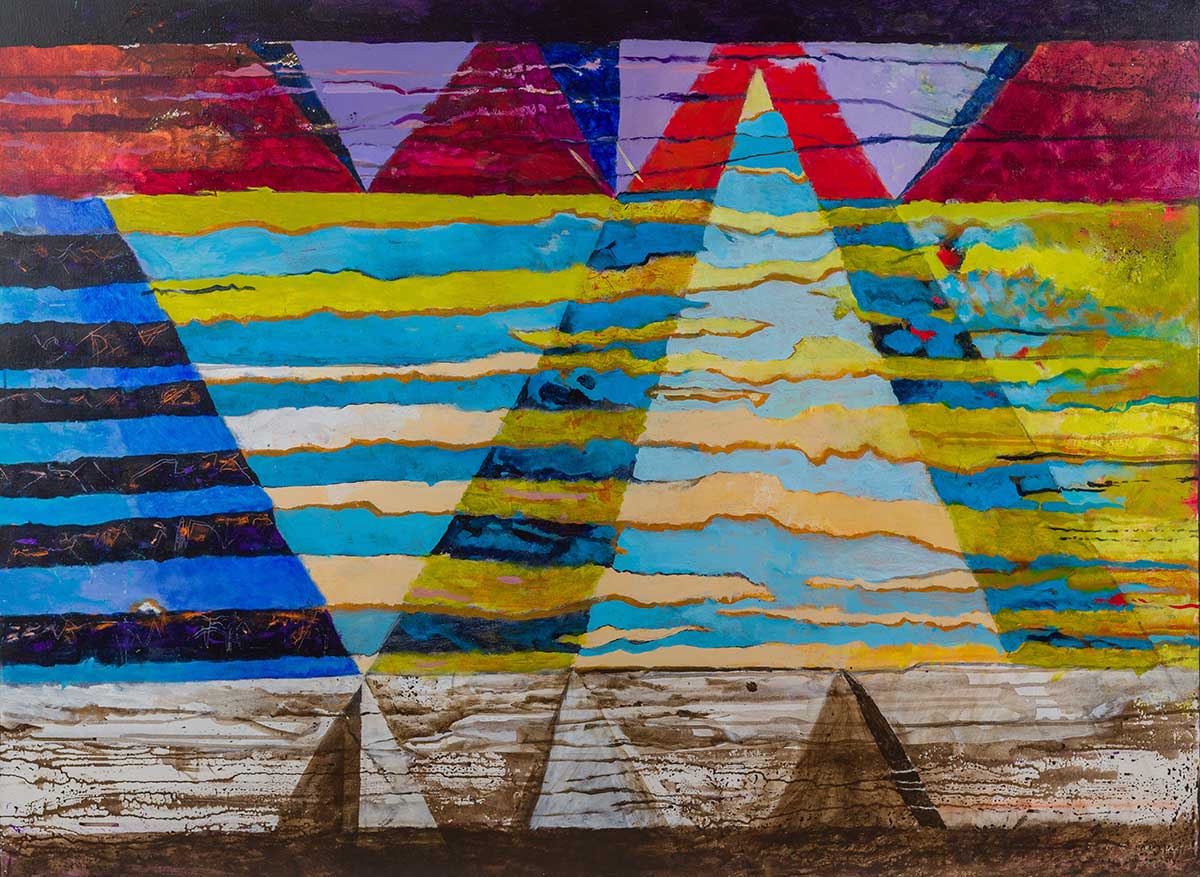 The Brighton Storeroom is delighted to announce its re-opening on Saturday 10th April with a stunning exhibition of new paintings by Alison Chapman Andrews entitled Big Gully Pond. Four important new large works that take the Barbadian landscape as their subject matter will be on display alongside smaller studies.
A graduate of The Royal College of Art in London, Chapman Andrews moved to
Barbados in 1971 and has spent over fifty years working in the Visual Arts locally,
carefully and lovingly studying the physical world around her. She is renowned for her representation of the Barbadian landscape and these new paintings continue this exploration.
view article
---
InSitu: A Site Specific Caribbean Project
Flower Forest Botanical Gardens, St. Joseph, Barbados
Punch Creative Arena developed
InSitu
as a welcomed opportunity to work on a curatorial project not confined by gallery interiors; a project that offered artists a chance to experiment with outdoor sculptural pieces, in response to or inspired by the environment in which the work is experienced.
We invite you to visit the garden in the coming weeks as pieces get added.
On
Sunday December 13th at 3pm
we invite you to tour the work.
Come earlier if you desire a relaxing extended walk through the garden.
At
4pm
we will hold the InSitu edition of our popular
'HotSeat' artist talk series
when the artists will discuss their work.
TBS artists
Kraig Yearwood
,
Simone Asia
,
Katherine Kennedy
and
Versia Harris
will be exhibiting in
InSitu
---
Pop Up Magazine's, Issue in a Box featuring Llanor Alleyne on sale now

November 30th, 2020
Filled with unforgettable food-themed stories told in unexpected ways, the very first
Issue in a Box
is now available! They worked with some of their favorite creative and culinary collaborators to design a beautiful (and tasty!) collection of interactive stories, objects, and artwork for your home. You're in for a real treat.
"Mixed-media artist
Llanor Alleyne
draws inspiration from the unexpected beauty of okra, a native vegetable of her current home in Oklahoma and her roots in Barbados."
view article
---
Living Barbados, Monday September 21st, 2020
The Brighton Storeroom's latest exhibition,
Kraig Yearwood
: This Is How Our Garden Grows, abounds with jubilant references to the fullness of life on earth. At the same time, this metaphor-laden exhibition reminds us of the fragility of our own existence, a particularly poignant and universal message for communities emerging from months in lockdown only to be confronted by societal and environmental challenges posed by climate change, the Black Lives Matter movement, and other factions. This Is How Our Garden Grows is as much a homage to the beauty of nature and the space we occupy as it is a sobering admonition of the consequences of every choice and action we undertake.
view article
---
meet ttff/20 festival artist, mark king

trinidad + tobago film festival, Friday August 7th, 2020

Our festival artist for the 15th edition of the trinidad+tobago film festival is the talented interdisciplinary artist,
Mark King
, whose work combines fashion, surface design, sculpture and installation to name just a few of the tools he uses. FILMCO's education coordinator, Catherine Emmanuel, spoke with King about his work, his interests and thoughts on being our ttff/20 festival artist.
view article
---
LOCAL DESIGNERS SHOWCASE TALENT

The Barbados Advocate, Tuesday July 23rd, 2020 By: André Springer
Designer Pauline Bellamy explains her concept behind her blue textured
masks in The Blue exhibit at The Brighton Storeroom this past weekend.
Last weekend The Brighton Storeroom exploded with colour and
Pauline Bellamy
, along with
Kraig Yearwood
, each contributed beautiful pieces saturated with the colour blue.
The post-lockdown exhibit themed The Blue, was the third recent showing for the gallery and included works from local artists and designers. Designer Pauline Bellamy was eager to be part of the showcase and explained why to The Barbados Advocate.
view article
---
The Blue

by
LIVING BARBADOS
on JULY 21, 2020
Sofie Warren
Weathered
2018 Digital Print
Less than a year after it burst on to the regional art scene, The Brighton Storeroom launches its third exhibition, The Blue. The title might reflect the way some of us are feeling at the moment but the curators claim that the inspiration for TheBlue was formed in 2019 following conversations with various artists, designers and collectors.
And for an island nation like Barbados, surrounded by blue skies and turquoise waters, an exhibition devoted to the colour blue is uplifting and celebratory of our Caribbean environment and culture.
view article
---
BLUE-TIFUL BRIGHTON EXHIBITION
The Barbados Advocate, Tuesday July 21st, 2020 By: André Springer
The Austin Fields contribution of the flying fish inspired Slope Glider was a
popular piece with the patrons. Here Fields explains his work, the Slope Glider,
to a curious guest.
The beautiful works featured this past weekend included an eclectic
mix of paintings, collage and sculptures interspersed with items
designed and employed in everyday life by artists and designers from
Barbados, Guyana, the Bahamas, and the wider region.
Emerging artists
Kraig Yearwood
,
Versia Abeda Harris
,
Llanor Alleyne
,
and
Tessa Whitehead
were shown alongside the more established
Caroline
Holder
,
Alison Chapman Andrews
and
Stanley Greaves
. Designers from
Barbados included
Neil Barnard
,
Pauline Bellamy
and the architect
Paul
Simpson
, beside photographers
William Cummins
and
Sofie Warren
.
Curators
Dennis de Caires
and
Estelle Thompson
were both pleased with
the turn out at the launch of the event. Thompson explained that blue
is a colour which inspires many artists around the world.
view article
---
Sprouting Up in a New City

Quarantine & Art, Marsha Pearce, May 6th, 2020
Artist Llanor Alleyne at her new home in Tulsa Oklahoma. Image courtesy the artist.
QUARANTINE AND ART IS A CONVERSATION SERIES INITIATED IN THE CONTEXT OF THE GLOBAL COVID-19 LOCKDOWN
A conversation between Marsha Pearce and
Llanor Alleyne
view article
---
INTER | SECTIONALITY: Diaspora in the Creole City
Curated by Rosie Gordon-Wallace and Sanjit Sethi
Open Nov. 14, 2019 - March 20, 2020 at the Corcoran School of the Arts & Design
ARTIST
Caroline Holder
, one of 25 artists featured in Inter | Sectionality, a bold, multiregional, multidisciplinary exhibition, curatorial collaboration and exploration of the emergence of the "Creole City" as a local, regional and global phenomenon. Internationally recognized curators Sanjit Sethi, former director of the Corcoran School of the Arts and Design, and Rosie Gordon-Wallace, founder, president and curator of DVCAI (Diaspora Vibe Cultural Arts Incubator) have designed this collaboration to provide a lens through which communities and community leaders internationally can begin to better understand themselves, their diversities and their unlimited possibilities.
view article
---
The Current presents: "Eclipse" – New Works by Max Taylor and John Cox
Smith & Benjamin's 'BAHAMIAN ART & CULTURE' Issue No. 399, Thursday November 21st, 2019
An eclipse is an obscuring of light from one celestial body by the passage of another between it and its source of illumination. It is a type of coming together – an overlapping, shadowing, crossing-over of something and another.
This new body of work by Bahamian artists Max Taylor and John Cox explores a kind of intersection, where the joining of artists, practices, ideas, material, and imagery brilliantly demonstrate the endless possibilities of art-making and its ability to overlap time and time again.
View Article
---
The work of Bahamian artists
Tessa Whitehead
and
John Cox
is showcased in the inaugural exhibition of The Brighton Storeroom gallery in St. George, Barbados.
View Article
Bahamian artists showcased in new Caribbean gallery - Smith & Benjamin's 'BAHAMIAN ART & CULTURE' Issue No. 397, Friday November 8th, 2019
Bahamian artists showcased in new Caribbean gallery - Smith & Benjamin's 'BAHAMIAN ART & CULTURE' Issue No. 397, Friday November 8th, 2019


Bahamian artists Tessa Whitehead and John Cox are two of ten artists selected for the inaugural exhibition of The Brighton Storeroom in Barbados.


The Brighton Storeroom is a new contemporary art gallery and cultural space in Barbados with a programme of exhibitions and events showcasing emerging, mid-career, and established artists from across the region. With the gallery's central Caribbean location, many works reflect and celebrate the challenges and achievements of the archipelago and its diaspora. Their aim is to bring international awareness to talented contemporary artists in the Caribbean and to strengthen creative opportunities and partnerships across the Atlantic/Caribbean region.
The gallery's inaugural exhibition entitled
"beginning"
celebrates this starting point – the origin, of a new space, with an ethos to support past, present and future art that is inspiring, fresh, and reflecting the Caribbean now. It showcases ten artists whose diverse creative approaches reflect on and celebrate contemporary Caribbean life and culture. Among the ten artists are Bahamians
Tessa Whitehead
and
John Cox
TOP: John Cox / BOTTOM: Tessa Whitehead
Tessa Whitehead, "All of us, and us" (2018),
Oil on canvas, 84" x 50"
Tessa Whitehead

Tessa Whitehead was born in The Bahamas in 1985. She studied Fine Art at Central Saint Martins School of Art & Design in London and received her MFA from The Slade School of Fine Art, UCL, London. Her work was quickly recognized after graduation and she was awarded a coveted Chisenhale Studio4 Residency in London. She has since developed an approach to her practice that is wide-ranging and includes, painting, photography, sculpture and performance.

Her most recent achievement has been the first one-person exhibition by a female artist ('…there are always two deaths') at The National art Gallery of The Bahamas in 2019 which focused on a presentation of figural paintings with complicated and ethereal narratives. She currently works from her studio NINE in Nassau and is currently Director of the D'Aguilar Art Foundation in The Bahamas.


Installation shot of "beginning" at The Brighton Storeroom, Barbados
Installation shot of "beginning" at The Brighton Storeroom, Barbados
John Cox

John Cox's mixed-media paintings and assemblages use familiar and ordinary objects to reference distant places and ideas. His paintings and assemblages often engage the life cycle of balance—struggle, transcendence, and acceptance—through simple structural materials.

Cox was born in Nassau, Bahamas in 1973 and attended the Rhode Island School of Design in Providence, Rhode Island, where he received a BFA in Illustration in 1995 and an MAT in Art Education in 1996.

Cox has exhibited internationally, including shows at the National Art Gallery of The Bahamas and Art Basel in Miami. He has participated in exchanges in France, Italy, Germany, Hong Kong, the United States and across the Caribbean. Cox has worked as an educator, curator, cultural activist and founder of Popopstudios International Center for the Visual Arts, Nassau. He taught in the Art Department at the College of the Bahamas (COB) and was Education Officer at the National Art Gallery of the Bahamas, where in 2012, he became the Chief Curator. In late 2013, Cox became the Creative Art Director for the luxury resort Baha Mar.


The Brighton Storeroom was originally established as an artists' run initiative in 2003 under the auspices of Michael and Alison Pile at Brighton Plantation in St. George, Barbados. Located in the old horse stables of the plantation yard, it is at the centre of the weekly Brighton Farmers' Market. The gallery will serve as a key hub in presenting work from local, regional, and international artists.

Exhibitions reflect an open multi-disciplinary curatorial policy but the core focus remains limited print editions and works of art on paper, ceramics, and other crafts. The gallery is welcoming and accessible but also serves as a serious forum for collectors and others with an interest in art and design.
John Cox, Untitled (From the Fight Series) (2015), Acrylic on canvas, 5.5'x7'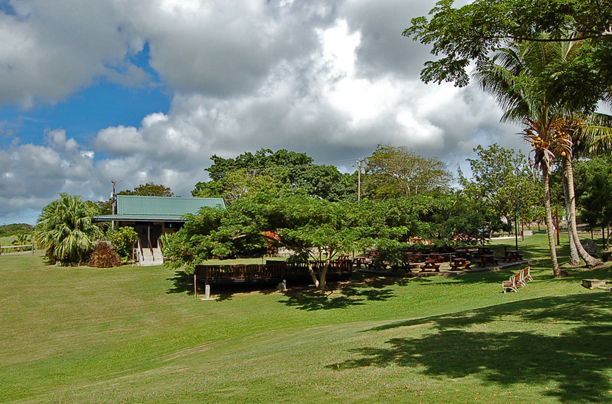 The Brighton Storeroom, Barbados
---
Artist
Mark King
in collaboration with Bregje Cox teach a workshop at the Tate Modern. Over four days they will invite the public to create bespoke patterns and mood boards that address the theme of power and how it relates to both the spaces we inhabit and the evolving environment of the Tate Exchange workshop space.
View Article
Enclothed Cognition is a collaborative project from Barbadian visual artist Mark King and Dutch fashion designer Bregje Cox. The collection is primarily inspired by the behavioral psychological theory of Enclothed Cognition. Particularly how a garment's symbolic meaning paired with the physical experience of wearing the garment combines to impact the wearer's performance in everyday tasks. Enclothed Cognition seeks to empower others by bringing awareness to the interplay between the clothes we wear, the built environment and the human mind.
---

The Brighton Storeroom copyright 2021