The Current presents: "Eclipse" – New Works by Max Taylor and John Cox
Smith & Benjamin's 'BAHAMIAN ART & CULTURE' Issue No. 399, Thursday November 21st, 2019
An eclipse is an obscuring of light from one celestial body by the passage of another between it and its source of illumination. It is a type of coming together – an overlapping, shadowing, crossing-over of something and another.
This new body of work by Bahamian artists Max Taylor and John Cox explores a kind of intersection, where the joining of artists, practices, ideas, material, and imagery brilliantly demonstrate the endless possibilities of art-making and its ability to overlap time and time again.
View Article
---
The work of Bahamian artists
Tessa Whitehead
and
John Cox
is showcased in the inaugural exhibition of The Brighton Storeroom gallery in St. George, Barbados.
View Article
Bahamian artists showcased in new Caribbean gallery - Smith & Benjamin's 'BAHAMIAN ART & CULTURE' Issue No. 397, Friday November 8th, 2019
Bahamian artists showcased in new Caribbean gallery - Smith & Benjamin's 'BAHAMIAN ART & CULTURE' Issue No. 397, Friday November 8th, 2019


Bahamian artists Tessa Whitehead and John Cox are two of ten artists selected for the inaugural exhibition of The Brighton Storeroom in Barbados.


The Brighton Storeroom is a new contemporary art gallery and cultural space in Barbados with a programme of exhibitions and events showcasing emerging, mid-career, and established artists from across the region. With the gallery's central Caribbean location, many works reflect and celebrate the challenges and achievements of the archipelago and its diaspora. Their aim is to bring international awareness to talented contemporary artists in the Caribbean and to strengthen creative opportunities and partnerships across the Atlantic/Caribbean region.
The gallery's inaugural exhibition entitled
"beginning"
celebrates this starting point – the origin, of a new space, with an ethos to support past, present and future art that is inspiring, fresh, and reflecting the Caribbean now. It showcases ten artists whose diverse creative approaches reflect on and celebrate contemporary Caribbean life and culture. Among the ten artists are Bahamians
Tessa Whitehead
and
John Cox
TOP: John Cox / BOTTOM: Tessa Whitehead
Tessa Whitehead, "All of us, and us" (2018),
Oil on canvas, 84" x 50"
Tessa Whitehead

Tessa Whitehead was born in The Bahamas in 1985. She studied Fine Art at Central Saint Martins School of Art & Design in London and received her MFA from The Slade School of Fine Art, UCL, London. Her work was quickly recognized after graduation and she was awarded a coveted Chisenhale Studio4 Residency in London. She has since developed an approach to her practice that is wide-ranging and includes, painting, photography, sculpture and performance.

Her most recent achievement has been the first one-person exhibition by a female artist ('…there are always two deaths') at The National art Gallery of The Bahamas in 2019 which focused on a presentation of figural paintings with complicated and ethereal narratives. She currently works from her studio NINE in Nassau and is currently Director of the D'Aguilar Art Foundation in The Bahamas.


Installation shot of "beginning" at The Brighton Storeroom, Barbados
Installation shot of "beginning" at The Brighton Storeroom, Barbados
John Cox

John Cox's mixed-media paintings and assemblages use familiar and ordinary objects to reference distant places and ideas. His paintings and assemblages often engage the life cycle of balance—struggle, transcendence, and acceptance—through simple structural materials.

Cox was born in Nassau, Bahamas in 1973 and attended the Rhode Island School of Design in Providence, Rhode Island, where he received a BFA in Illustration in 1995 and an MAT in Art Education in 1996.

Cox has exhibited internationally, including shows at the National Art Gallery of The Bahamas and Art Basel in Miami. He has participated in exchanges in France, Italy, Germany, Hong Kong, the United States and across the Caribbean. Cox has worked as an educator, curator, cultural activist and founder of Popopstudios International Center for the Visual Arts, Nassau. He taught in the Art Department at the College of the Bahamas (COB) and was Education Officer at the National Art Gallery of the Bahamas, where in 2012, he became the Chief Curator. In late 2013, Cox became the Creative Art Director for the luxury resort Baha Mar.


The Brighton Storeroom was originally established as an artists' run initiative in 2003 under the auspices of Michael and Alison Pile at Brighton Plantation in St. George, Barbados. Located in the old horse stables of the plantation yard, it is at the centre of the weekly Brighton Farmers' Market. The gallery will serve as a key hub in presenting work from local, regional, and international artists.

Exhibitions reflect an open multi-disciplinary curatorial policy but the core focus remains limited print editions and works of art on paper, ceramics, and other crafts. The gallery is welcoming and accessible but also serves as a serious forum for collectors and others with an interest in art and design.
John Cox, Untitled (From the Fight Series) (2015), Acrylic on canvas, 5.5'x7'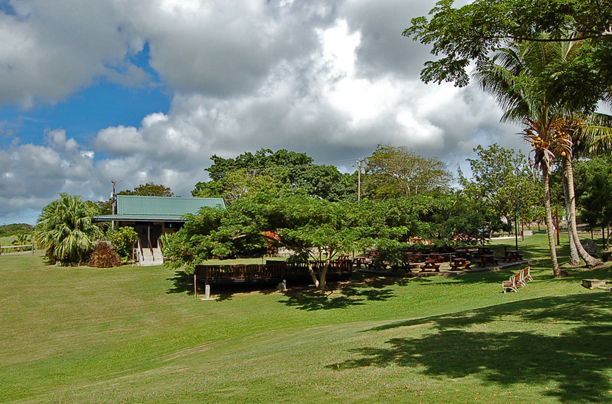 The Brighton Storeroom, Barbados
---
Artist
Mark King
in collaboration with Bregje Cox teach a workshop at the Tate Modern. Over four days they will invite the public to create bespoke patterns and mood boards that address the theme of power and how it relates to both the spaces we inhabit and the evolving environment of the Tate Exchange workshop space.
View Article
Enclothed Cognition is a collaborative project from Barbadian visual artist Mark King and Dutch fashion designer Bregje Cox. The collection is primarily inspired by the behavioral psychological theory of Enclothed Cognition. Particularly how a garment's symbolic meaning paired with the physical experience of wearing the garment combines to impact the wearer's performance in everyday tasks. Enclothed Cognition seeks to empower others by bringing awareness to the interplay between the clothes we wear, the built environment and the human mind.
---

The Brighton Storeroom copyright 2020